What If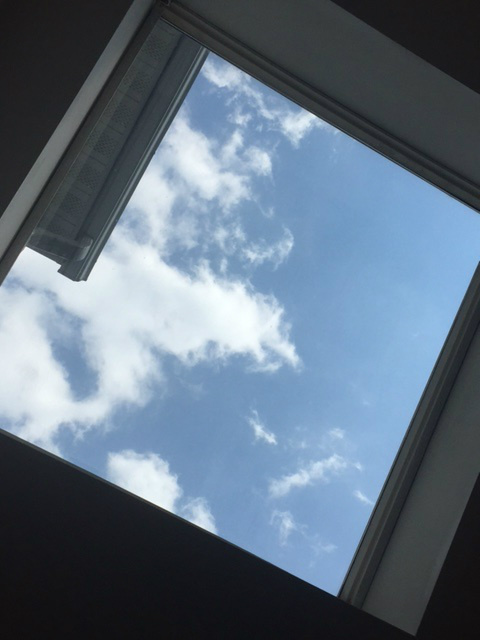 Today, I was daydreaming. Driving along in LaCiv, diggin the warmth, the sun and the tunes. It was a beautiful day; a bit too hot, but pardoned as that last bit of summer before the days get shorter and colder. I'll take it. I prefer the coolness of fall, but when something that valuable is fleeting, I'll give it props.
It was an eventful drive. Had a lot of content, shall we say. The telling trek started with, as is often the case, someone climbing my rear like a socialite at a Hollywood party. The dude was all over me. I'm not fond of tailgaters. They scare me. I like to build in a little margin for error. So, I did what I always do, (my bad, I was cruising in the fast lane,) I waited for a break and moved out of his way. He rolled past me like I was standing still. (Even though I was already going 10 mph over the speed limit.) That was the kick-start to my consequential drive.
My daydreams were seized by the wind Speed Racer and Chim Chim generated as they barreled past; I thought about waving, just to bust his balls, but then I thought, "What if I don't." What if I never react to another road crazy again. What if we all stopped reacting. I mean, it is what it is. He's not going to stop driving like a nut-job because I get upset. Not that I'm not culpable; guilty as charged. I've been known to make some pointed comments to a few road rascals in my time, but nothing too outrageous. My Dad was a vigorous curser. Used to make me really uptight when I drove with him. Thought it was strange that the person making the mistake was blissfully and obliviously breaking traffic etiquette, but I was the one getting the brunt of it. It only added more crazy to an already edgy situation. What if we all just accept that there are careless, (and sometimes thoughtless,) people on the road, and we go about our business without reacting? Hmmm.
A little farther down the road, while pondering this what if phenomenon, a song rolled up on my iPod, (I know, you're shocked.) A song that always pulls me down to earth. It was a live performance of Eddie Vedder and Neil Young, singing, Long Road; as a part of a benefit telethon, after 9/11. I remember watching it live. I cried. Who didn't. It's hauntingly beautiful. Tragically desolate. Made my heart ache for all their losses; still does. That did it, I was officially preoccupied with, what if. This past weekend we were with our boys and their beauties; somehow 9/11 came up and Sarah recounted her disastrous week at outdoor school as a sixth grader. She remembered it in detail, her class was supposed to be there all week, but instead, their parents picked them up every night, there was no staying over. And they couldn't go outside, which was the whole point; it was ruined. What if we had no reason to remember that week. For those of us who are old enough, we can pull it so vividly from our memories. What if the hatred and misunderstandings that separate men, the influences that drive them to kill, could somehow be overcome.
My road trip task took a little longer than I expected and I ended up heading home at rush hour. Thought I was being a shrewd little navigator and I took a back route home. Epic fail. Single lane, backcountry roads don't like volume. Especially when there's a light. Found myself with some long stretches in between inching toward the light, so I pulled out my phone, (yes, I'm still addicted to social media,) and opened the app for Instagram. Since I had some time on my hands, I figured I'd spend it with some interesting images. I found a heart-wrenching story on HONY; a story that needs to be told. There's a woman in Pakistan named, Fatima, whose working to end bonded labor for the people who are trapped into working in the 20,000 brick kilns across their country. The stories this woman has shared have been atrocious. The last one was unfathomable.
A family contacted her for help, saying they could not escape their owners and their girls were being sexually assaulted. She drove to the kiln in the middle of the night and told them to run. The owners realized what was happening and started firing guns. The family made it to the car, all but the youngest; their four-year-old stumbled and was captured. The child was missing for three months. Fatima went through the courts seeking help, but they insisted no child was found at the kiln. The poor woman was desperate to do something, so with the help of several other laborers, she dressed in rags and pretended to work at the kiln. For several days they searched for the child before realizing there was crying coming from the owners house. They went back to the courts and demanded the house be investigated. The child was rescued, but for weeks would not eat, talk or cry. They learned that every time this helpless, four-year-old child would cry for food, the owners beat her. Four years old. You can imagine where my what if went from there.
What if greed didn't drive the hearts of men. And humanity came to understand the wisdom in the lesson, "To each person the manifestation of the spirit is given for the common good." Whatever our strengths, they're there for a purpose, to contribute to the well-being of everyone as a whole. Not to persecute and brutalize those who are weaker. I wonder if they would wish such treatment on anyone in their families. What if there was no cruelty.
When I got home, I needed to write.
After I finished the blog, I rested my head back and peered up at the skylight pictured above. I've often sat in this chair and let myself daydream with the clouds that pass through that frame. Today the dreams are substantial. Seemingly impossible, but just what if. What if…
~~~~~~~~~~~~~~~~~~~~~~~~~~~~~~~~~~~~~~~
I don't know if I'll be writing as much going forward. My health kinda took a dive this past weekend. Might be some longer stretches in between, I hope not, but it's a possibility. But, in any case, I wanted to say thanks to all of you who've taken the time to follow the blog, (and put up with my indulgences.) The response has been unexpected, humbling, and so very cool. Thanks.
If you'd like to listen to, Long Road, I've pasted the link below.