C.O.D.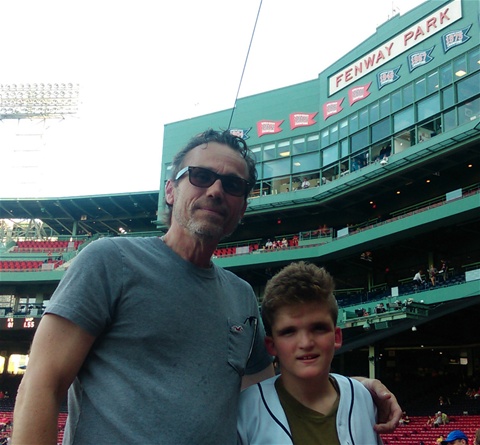 Changing horses this late in the race is a little surprising and especially when the player is such an unlikely choice; but there's no denying it, I have a new favorite Dr. Seuss character. I've always been a die-hard Horton fan, because, really, let's be honest, does it get any better than Horton? I mean the guy is the protector of all things weak and small. He's an elephant, so pretty much everything is smaller than he is, but no one made him fight the good fight, that's all on Horton. (Okay, okay, maybe Theodor Geisel had a little bit to do with it.) But you gotta like a character whose motto is, "I meant what I said, and I said what I meant. An elephant's faithful, one hundred percent." I'm down with faithful, who isn't. Safe, trustworthy, Horton. Sorry, dude, you've been dethroned, and the new front-runner?
Sam I Am.
The reason for my unexpected shift of alliance to the persistent little pill? I just spent the past week with a Sam I Am doppelganger, and endearing doesn't begin to cover it. No, he doesn't wear a bright yellow outfit and a red hat, nor is he covered with white fur. This Sam is more the persona of Seuss's sparkplug. To a T.
Let me go back, you need some exposition to fill in the story. On August 2, 2010, BK lost his best friend, Josh, to cancer. It was a long, brutal fight that endured an amputation before the disease won the battle. Talk about faithful 100%, even though he lived in Seattle, BK made a point of spending time with Josh and his family, especially toward the end. On one of his trips, Josh made a request, he asked BK to be one of his, "Council of Dads." Josh and his beautiful wife, Kim, have three precious kids. At the time of Josh's passing, they were 9, 6 & 3. He recognized they were going to need a dad from time to time, so he asked his closest friends to step up to the plate. BK easily offered the promise and has made a point of being in their lives. He's in the starting line-up, and batting 1000.
It's now become a tradition for one of them to visit us for a week each summer. Our charge this year, (and last, he said he needed another go round,) their middle child, Sam. To say Sam is a unique kid would be an understatement. The mold was broken after Sam was born. He is definitely a one-of-a-kind.
His similarity to Sam I Am is apparent within the first five minutes of being in his presence. On the student website, Shmoop, the character analysis of Sam I Am reads like Sam's resume. "Sam is that super-curious, super-energetic little kid who's always teetering on the edge of danger, driving his caretakers crazy with hijinks and shenanigans—and of course, questions." No, it's not just questions, it's more like grilling. Sam has one of the most curious minds I've ever encountered. And smart. He's scary smart. At eleven years old, he has more knowledge catalogued about sports, (baseball in particular,) than the ESPN research team combined. His capacity for facts is astounding, he can speak intelligently on a myriad of topics. This is an extraordinary mind. Wild, but extraordinary.
His Dad knew exactly what he was doing when he employed BK, the guardian angel. As an influence in Sam's development, Josh couldn't have drafted a better player. BK's a decent and kind person, who has a big soft spot for kids. And he's smart enough to keep in step with Sam, (at work they call him, The Encyclopedia.) He's also irreverent as hell, and hysterically funny; the perfect match for Sam. And though he may not be quite Sam's equal, he can certainly hold his own with baseball knowledge. They are a seamless pair.
Watching the two of them interact this past week has been a mixture of joy and exhaustion. I'm not quite sure how BK did it, but he kept him occupied for the entire visit. Items on the itinerary: fishing, playing catch, watching sports, (natch,) and a road trip to Boston to see a Red Socks game. The man is a saint. In the quiet moments, (rare, but there were a few,) the dad advice BK gave was priceless. And, to his credit, Sam listened. Last but not least, throw a visit to our Brooklyn contingent in the mix, (the three of us drove up to celebrate Sean's birthday,) and Sam officially declared us his second family. I can see Josh smiling.
Now, as a literary character, Sam I Am gets a bad wrap. Word on the street is he's guilty of harassment, peer-pressure and stalking. It's easy to arrive at the misconception that he's a troublesome guy, relentlessly pushing unwanted ideas. But, in truth, all that persistence pays off in the end. The big guy eats the green eggs and realizes he likes them. Turns out, the insistent little salesman is a visionary.
Maybe Sam I Am didn't really dethrone Horton, he just climbed up and sat down next to him. I asked BK tonight, (Sam is safely back in Seattle, he put him on a plane this afternoon,) how he felt about the visit. He said, "I love Josh, I love Sam, and I'm a man of my word." BK is faithful 100%. And Sam, perched up there next to him, his relentless enthusiasm will eventually serve him well. Time will reveal the deal, Sam I Am, is a visionary.
If you're interested in receiving an email with a link to my weekly blog post, you can register at: