Sticking with the Joy Stuff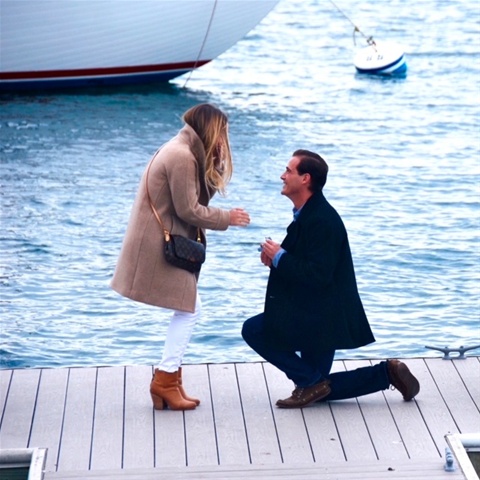 Joy comes in a variety of packages, some delight is a given; absolutely no way you can deny it. But some, enters through the back door. If you aren't vigilant, you can miss it.
In the case of the former, I'm compelled to share the photo to the left; it elicited such an ecstatic response when it popped up on Instagram, holding it partially responsible for this go round at my keyboard. In the capture of that transformative moment there are a thousand wonderful words; they belong to, Dylan and Elisa. An absolutely stellar pair. Looking at this pic, I can feel the joy of their wedding day already. Joining these two souls will be cause for celebration. He is a successful, smart and loyal man, who works really hard but never makes mention of it. She, well, she is a prize. Accomplished in business and one of the sweetest and kindest people I've ever met. The only regret I have about sharing this pic is not seeing Elisa's face; she is an absolutely stunning woman. Double-take beauty. Dylan's not too shabby himself. One of our nephews in CA, his genuflect brought joy to a lot of people. Classic joy. Congratulations D & E.
The other variety is a little harder to come by, but heartening, all the same. It's the joy found in difficulties. Certifiable, you say? Hear me out. (Long on experience of late.) If you follow this column, you know we've been in contention as the poster children for Murphy's Law. Some of the worst hits on the list haven't even been revealed, but one thing I've realized in our gauntlet of challenges, there is an up side to everything. It's all about how clearly you see things. My cousin, Paddy, (who just happens to be Dylan's beautiful Mom,) told me a story recently that gave me 20/20.
Her youngest daughter, Peyton, an angel, (no, seriously) was volunteering at a children's hospital on Christmas Eve, spending time with kids who share a piece of her growing up, childhood cancer. Peyton is a survivor. Who gives back. All the time. She told her Mother there was a young boy, (kindergarten/first grade young,) who showed her a drawing he had just done of a rainbow. She asked this little man, who was so sick he needed to be hospitalized over Christmas, what made him think of drawing such a thing; his answer, "I choose joy."
Been carrying that little nugget around since she told me and it's altered my vision. On a whole, I'm a person who sees joy in most things. Unfortunately, also have the deficit of being someone who can't stand injustice; on any level. Tend to be righteous about my reactions. You could argue it's a good quality, some do. But, in truth, passing judgment is at the root of it all and, although I've searched, it's not in my job description. The worst test is my family, when someone hurts a member of the clan, enter full warrior mode. This house being built has been another tough exam. Have fail several pop quizzes on that front. Miserably.
In truth, the rainbow child knows the real deal. It's what I choose to see and feel that constructs my days. This delicate boy, with a horrible injustice gripping him, chooses to see the joy in life. He clears the fog. Yes, there have been trials, some circumstantial, some inflicted, but the outcomes were not altered by my negative reactions, only made more difficult. Use the mantra all the time and it's true ~ it is, what it is. Finding the good in difficult situations changes everything; it brings peace. (Which is totally under-rated.)
Need to post a little early this week; going coast to coast. Board a plane this afternoon for California to attend Luke's, (my brainy son-in-law,) graduation from Pepperdine. As of Saturday he will be an MBA. More classic joy. A second graduation follows next weekend, (duel major, wasn't kidding, smart dude.) Bring on the merriment. He and Shay have earned this; three years of a long-distance marriage is finally over. Their elation is palpable.
Won't be attending the second graduation, my west coast tour of happiness takes me south for the second leg. Visiting some regulars to the blog, our beloved matriarch and patriarch, AK & US. Been too long, can't wait to see them. Huge bonus comes with a visit to their haven of a home, their children and their families live close; anxious to see them all. Peyton, the angel, is numbered in that crew; her middle name, but of course, Joy. Won't have to look far to find it this week.
If you're interested in receiving an email with a link to my weekly blog post, you can register at: