Gifts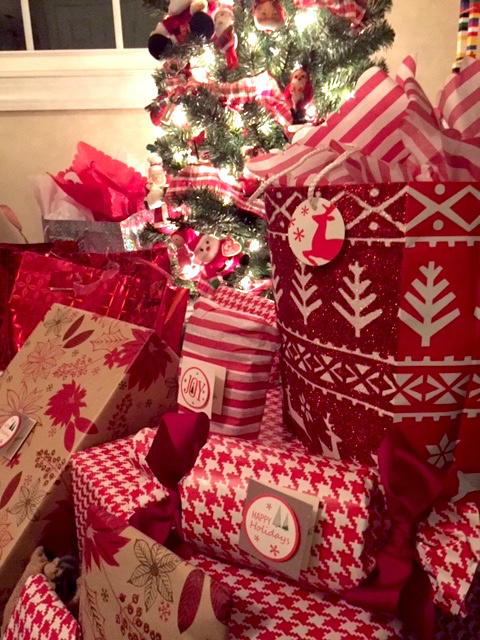 Our story picks up pretty much where we left off, (one of these days I'll get back to writing about topics, there are so many juicy items to chose from, but not just yet,) the Christmas nomads found a home. Talk about gifts, we had several offers of deliciously desirable places, and from some treasured people. Thoroughly humbled by all the generosity.
Fittingly, we ended up at an angel's house. How perfectly apropos for Christmas. Ann, the guardian who gives me shelter when I wonder back to the old hood, (wondering has a schedule, pretty much once a week,) gave me the metaphoric keys to her cottage kingdom, (got my own key a long time ago,) for an entire week, while she's been in Colorado with her precious family. (Tapping this installment out on her computer.) So, the complete cohort, the enigmatic eight, descended on her house. We had a home, (my second,) beds, a fireplace, and a practically-perfect-in-every-way Christmas tree. Our family holiday was rescued. Beyond the children all gathering from hither and yon, this charming abode was my favorite Christmas gift. Thanks Ann.
In case the title didn't give it away, this episode is about gifts.
Things have improved since we last talked. Not so much situations, more the mindset. The house still isn't done, but it's getting closer. What? I've said that before? Yeah, well, this time I think it's possible. If I had to put a target up, (dare I?) I'd shoot for mid-January. After a year, the long-awaited gift, our delightful digs will finally change hands. No more excuses and delays and disappointments. Man, what a gift it will be. Hopefully, by the next installment, we'll have a move-in date. I'll keep you posted.
Been holding onto a present I got the weekend before Thanksgiving. Actually, I got this gift some fifteen plus years ago, his name is Jake. He was an adorable toddler, youngest of five and the only boy in his family. When he was eighteen months old, his adventuresome spirit took him one step too far; he fell into their pool. He's now a young man who has lived the majority of his life incapacitated and profoundly handicapped from a brain injury. When he was three, I signed on to be one of a number of people who offered to help with a special therapy, BRAINnet. His Mom, Donna, (one of the people I admire most in the world,) exhausted every tool available to help Jake rehab and allow him as much comfort as possible. It takes three sets of hands to carry out BRAINnet; for years, was on the schedule once a week. When we moved, all that came to an end. A huge loss. Theirs is a family that had become mine. I've been with them through some major expansions. Three weddings and three babies. Tiny sisters, three of the smartest little toe-headed girls you'd ever want to meet. And hysterically funny. As they flourished, they worked their special brand of therapy on our hearts while we worked on Jake. Truly, these people, all of them, were a gift in my life. And after not seeing them since last January, the Saturday before Thanksgiving we all gathered for a special occasion.
Every two years Jake's family organizes a pig roast and silent auction to help with the cost of his care. It's always the perfect kick-off to the holidays; approximately 400 people from the community gather to celebrate and support this beautiful young man and his extraordinary family. This year's festivities came with news, another wedding on the horizon, their youngest daughter; and a new baby for the most recent newlyweds, this time a boy. Pure joy. Absolutely stellar people. At one point during the evening, the middle munchkin, Nadia, a fascinating four-year-old, grabbed my hand and danced me around the entire perimeter of the hall, (there were over 300 auction items, it covered some serious landscape,) a little moment of magic I won't soon forget. Walked out with an auction item, some of their famous fried chicken, and a priceless reminder; happiness is always there, even around the most difficult of circumstances. Donna, Doug and their beautiful children know, life is what we make of it. And they have created a masterpiece.
As you can imagine, and probably experienced yourselves, there were some gifts exchanged for the holidays. (Note, photo above.) Our children came up with some standouts in the gift-giving department. They have the perfect recipe of excellent taste, blended with admirable generosity; they regularly cook up some meaningful presents. But, as delightful as their gifts are, the true bounty is the givers themselves. Without question, BK and I agree, they are the ultimate gifts. Priceless. Always feel a little bad about spilling their lives across my web page. They're quietly supportive but I can imagine it's somewhat bothersome. I can't help it. They are extraordinary. Doesn't every parent feel that way? Well, it's true. The mere thought of them thrills me. Their creativity and capacity, their compassion and concern, each of them is drawn to the underdog, reaching out to people who need help the most. Gifts; to all the lives they touch. Certainly to mine.
Happy New Year. Here's to a healthy, happy and fruitful year for us all. May your lives be filled with the priceless gift of love. The greatest of all.
If you're interested in receiving an email with a link to my weekly blog post, you can register at: