Sweet Ride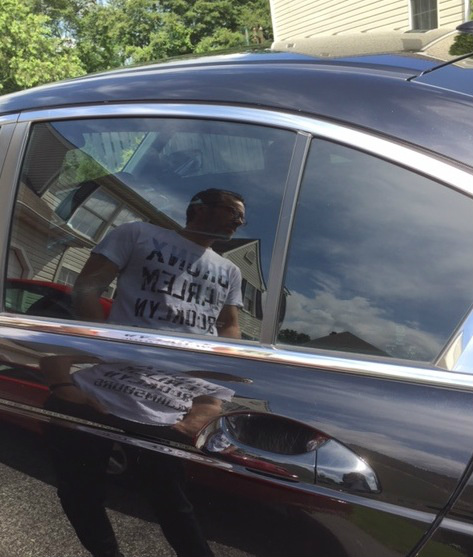 Did you know Father's Day is all about car shows? I didn't, (until I was toying with the idea for this opening and searched the net.) There's some biggies. The first one to come up is the, Classic at Pismo Beach. The 30th annual, no less. As soon as you land on the homepage, you can tell it's a doozy; the sponsors are heavy hitters, advertising cream of the crop. After tooling around the site, I would say, if car shows are your jam, this one is a must. For me, not so much. My concern for cars goes as far as my Honda Civic in the driveway. As long as I have a Honda, I'm good. But, generally, dudes and cars go together. For my purposes, today, I'm thinking of dudes as cars. Four in particular.
They are all priceless vehicles and I will introduce them in descending order from the latest model to the classics, (of course, saving the best for the last.)
The first gem on my list is a prized gold Ferrari, one of the larger models, 6' 5 3/4" to be exact. Ferrari is a brand that gets it done, fast and effective, capable of more than one would imagine; worthy of a Formula 1 title. And pretty sweet on the eyes too. That's Sully, my son from a different mother. I've written about him before. I reprise his roll because he's basking in the awe of his first Father's Day, with his eight-day-old son, Cohen. (I'm in love with this infant.) Sully has been to hell and back. He is an addiction success story. The road he followed was treacherous, with some hairpin turns that would have rolled the most sturdy of vehicles, but not Sully. Heroin is a powerful obstacle. It takes a person of strong will and tremendous character to maneuver past a barricade like that. Hard lessons, learned well. His on-board GPS has him on a straight, smooth, and picturesque road now. He picked up his beautiful soul mate along the way and their happiness is tangible. When they found out they were having a baby, it reminded me of BK and I, over the moon happy. Cohen, what a lucky little boy you are. Happy Dad's Day, Sully.
The next car in the gallery of greats is the timeless Rolls-Royce. This car is class personified. A sleek and impeccably presented automobile, one that has my deepest respect and love; by name, US. I believe this is the first appearance for US in the blog, he is the equal half to AK and the patriarch of our family. Beyond his myriad accomplishments, (a notable career in the entertainment industry, a giant in the continued growth of the alcohol and drug rehab, Father Martin's Ashley, and a vocation as a Dad) the thing I most cherish about US, is the way he's loved BK. Although his own father never knew his worth, US recognized his greatness and touted it on a regular basis. Appreciate a person and they rise to that impression. It's amazing what a little love and encouragement can do. There was never a need to feel abandoned, US wasn't going to let that happen. He and AK have nurtured our family connection and made us their own. Happy Father's Day, Dad, you are, quite literally, the best.
And the next car in the line-up, the Mercedes Gazelle SSK roadster. What a unique car. So rare, the originals are valued at over 7 million dollars. This is an impressive car, one that makes you sit up and take notice. That was definitely my Dad. A man of extraordinary intelligence, he was as engaging as he was smart. No one could tell a story like my Dad. When I think of him, I think of projects; he always had one going. Most of them were centered around boats and basements. But he also built a Mercedes Gazelle SSK kit car, (with a little help from a friend.) The man loved to tinker. That remarkable mind of his was always going, figuring out a better way to do things. He was the first person to put electronics in a piano. A baby grand of his design was a focal point in our house for the entirety of my growing years. Too bad he never got a patent. The gene pool didn't grace me with his capacity, so I can't fathom it, but have always admired his intellect. And regardless of what deficits I may have had in comparison to my brothers and sister (there's some serious brainiacs in our family,) he never made me feel anything but capable. He was also another one who recognized BK's substance, not only as an intellect and a writer, but most especially, as a father. He confessed that BK showed him what a father was supposed to be. A role he admitted, he did not carry out well. He may not have been a candidate for Father of the Year, but he loved us, fiercely. I will always adore my Dad.
That brings me to the best vehicle in the fleet, a priceless phenomenon of modern engineering, a shiny black…Honda Accord. My very favorite car in the whole world. This Honda Accord is my happy place, my comfort and security, and it's a one-of-a-kind. It's not only the metaphor for BK, it is the car he drives. A steady transport with an unimpeachable record of reliability. A man that's committed to carrying us all safely through the roads of life, no matter how steep or rocky they are; he's always there to get us where we need to go. He would take a bullet for any of us, but especially for the kids. My God, how he loves the kids. And they him. What's not to love? His humor relieves us, his strength supports us, his intellect challenges us, and his love secures us. Never do I love the man more than when I see him with our children; from the time they were born, he has been a hands on Dad. They were his first priority, above all else. And they have treasured his attention. (A number of the children who have grown up in our house have coveted his attention. He more than earned their moniker, The Zen Master.)
On our recent trip to Miami, he was given his Father's Day present early. (It's, truly, the best gift either of us has ever received.) Shay conspired with the boys and created a book of memories. A roadmap of our lives through BK's blog. She sifted through five years of his posts and pulled significant moments from his writing, then paired each post with an opposite page of pictures that related to the story. By the time we were done looking through the book, BK was having a hard time talking and I was unashamedly sobbing. It is beyond touching. It is the man, the husband, the father of my dreams, captured in a coffee table book entitled, WITH YOU. (Shay's title is a double entendre, a reference not only to our family, but also a favorite love song for BK and I, Peter Himmelman's, With You. Perfect title.) Messages from each member of the family comprise the last two pages. As if the stories from the book weren't enough, I'm pretty sure that's what put me over the edge. The children's messages are private, but I will share mine.
You make it work, you're the tie that binds us all. The Wordsmith that has inscribed our hearts with the love that is uniquely and wonderfully our family.
I love you,
LaSooze
BK is the driver for this family and I am eternally grateful he's our vehicle. And what a sweet ride it is.
Happy Father's Day
Peter Himmelman, With You
https://www.youtube.com/watch?v=Vbz1D08muFw
If you're interested in receiving an email with a link to my weekly blog post, you can register at: