Woods and Words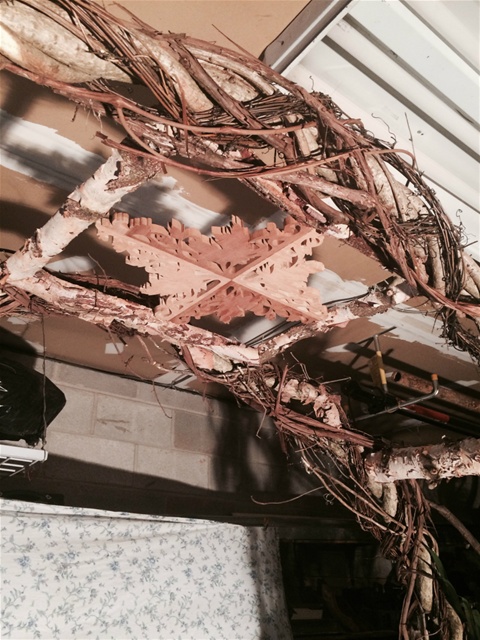 Spring gave a taste of summer this weekend. A Saturday more beautiful than any I've seen in a long time. Felt to me like a summer day had muscled it's way in, on a mission to support the wedding we were attending. It was flawless weather for an outdoor affair, with an enchanting breeze that floated through the ceremony, soft gusts that accompanied the bride's veil in the first dance of the day, perfect. Back dropped by a panorama of idyllic countryside, the young man who presided, (another one of our clan,) made me choke up several times. (Now, to be completely honest, this is a fairly simple task at a wedding, I'm an incurable sap. But the combined trio of the bride, groom and our temporary pastor, took it next level. Originally brought to our home as friends of Shay, they all reside in those pictures I told you about on our desktop.) You can imagine, a heart wedding, to say the least.
BK made the comment that it felt good to celebrate with Dana and Matt, (our bride and groom,) because they're lifers. They belong together. I see it too. Hence the next level tears. But the first time our clever cleric caught me off guard was his opening comments; not about the radiant couple, but a tribute to her Dad. It struck me as the perfect way to open a wedding. Because we have fairly recently gone through the Father-of-the-bride transition, for me, his praise was universally shared about BK. Father's who adore their daughters are a thing to behold.
That kind of affection is notable. I thought I knew what love was, until I watched BK with our children. He was my person and I didn't think I could love him anymore than I already did, but watching his connection with the kids, from the minute they were born, put love in a category of no words. Weddings have a way of underscoring that particular brand of love, and nowhere more distinctly than fathers to their daughters.
I have some friends, Chris and Deb, who are one week away from the big day. They've poured their considerable, collective, and creative energy into making their only daughter's day extraordinary. I've followed the planning, implementing, and now, the patiently waiting phases of the journey. They're so close, they can taste it. They're efforts have made them both candidates for Parent of the Year, (or, at the very least, Best Supporting MOB and FOB,) she is one lucky girl. The Dad Love in her wedding will be pictorial. It's, in every sense of the expression, a labor of love. Their daughter, Breanna, will be married under an arbor of her Father's creation.
It's an astonishing structure, (partial picture above.) Beyond the obvious physical beauty of the arch, its contents are ancestral, of both people and place. The main frame was created of vines Chris pulled from Tulip Poplars that surround their family home, it was then wrapped in grapevines from the property of close family friends, entwined in the arbor are also maple branches from trees her brother put on their property as a child; and Chris explained, "There is a small section of rose branch that was given by the Podorsky family, years ago, it represents the thorns that Breanna and Mark will encounter in their future years and the beauty that results from working through the thorns." I don't know all the players in this circle, (this friendship is a fairly new one,) but the P family sound like an insightful bunch. This arbor is constructed with a village of love. The crowning glory is a stunning piece of artwork at the pinnacle of the arch. Deb's dad and Breanna's grandfather, Andrew Kleban, crafted an exquisitely carved screen to complete their nuptial sanctuary. I can imagine when the sun pours through it, the light continues as delicate, lacy rays. Magical. On so many levels. The last comment Chris made about the arch was in reference to his father-in-law, "He watches from above us, and shares the love of this union, as he always said he would." Fathers-of-the-bride are multi-generational and ever-present.
As is the tendency for adoring fathers, BK crafted a lasting memory for Shay too. To this day it still breaks me up when I listen to it. He wrote a song for their Father/Daughter dance. It too became a family affair, Sean put his talents to work and produced the song for her. Shay didn't know it was coming, she just knew her Father had chosen his own song. Within seconds she recognized his voice and our daughter's composure was conquered. Delightfully so. There was no getting around it. Pretty much the entire room was reduced to my sap status. It was no wonder.
We always knew we would dance this way.
And we never lose these things that will stay,
that will stay.
Something borrowed, something blue,
Something old that we always knew,
Me and You.
Our young celebrant had it right, you should honor the ones that brought you there. The men who taught you to walk and run and soar. The first and most powerful examples of what a husband's love is supposed to be. The defenders. The protectors. The lovers.
Here's to the ones who take the time to build wedding moments; of woods and words, of heart and soul.
For any of you readers who might be interested, BK's song, Little Brown Dog, is posted on Youtube at: